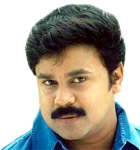 DILEEP
Name : Dileep (Dileep Gopala Krishnan)
Date of birth : October 27, 1968
Family : Father - Padhmanabhan Pillai, Mother - Saroja, Wife - Manju Warrier, Daughter - Meenakshi
Address : 'Padhmasarovaram', 6/440, VIP Road, Alluva - 682003.
Debut Film : Ennodu Ishtam Koodamo (Malayalam)
Awards : Kerala State film Special Jury Award 2002 for 'Kunjikoonan'. 'Mathrubhumi' popular actor of the year 2002 award. Kerala State film Special Jury Award 2005 for 'Chandhupottu'.
The most happening actor in the Malayalam cinema Dileep - entered the Malayalam film industry as a mimicry artist who wanted to be an actor, but then started assisting directors like Kamal. He got his first break in a tiny role of Kamal's film 'Ennodu Ishtam Koodamo'. And the films which came afterwards like Manathe Kottaram, Mr. Butler, Kakkakkum Poochakkum Kalyanam etc proves him as a good comedy actor. 'Sallapam' a hit movie of Sunder Das in which he played as a hero gives him a break as a hero in his film career. Later comes Rakshasaraajavu, and Thenkasipattanam as supporting actor which all become hits.
But it was in a movie named Joker, directed by Lohitdas which unchained him from the type comedy roles he had at his hand. He played the role of the joker, who always wore a smile at his face and was making others life even when he had a whole lot of personal agonies hide within his heart. He handled the character with easiness that he never had to look back after the film's stupendous success.
Dileep became the most hated man in Kerala when he married Manju Warrier and she stopped acting. she was one of the most loved and talented actresses that has happened to Kerala in recent times. His bad time, it seems ended with the birth of his daughter, Lakshmi.
Subsequently, after the film 'Joker' his demand as a successful hero started with hit after hit like Ishtam, Ee Parakkum Thalika, Punjabi House, Kunjikoonan, Mazhathullikilukkam, Thilakkam, and the all time hit Meesa Madhavan . He also produced a film under his home production named CID Moosa which also become a hit movie. He is now busy with the production of his second film, 'Kathavasheshan' with DV Chandran as the director.